Drivers Education Program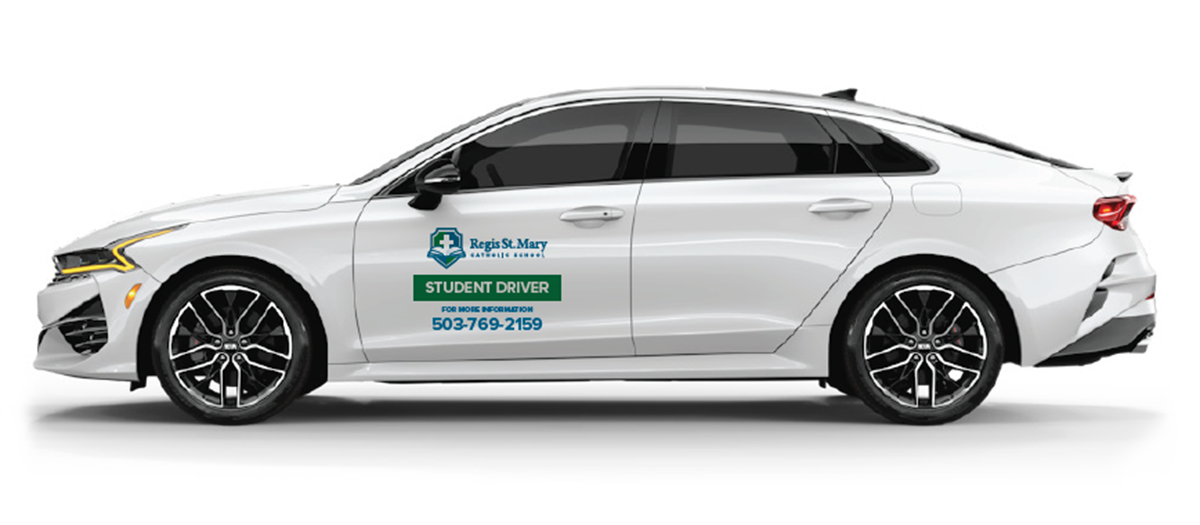 Overview
Driver's Education is back at Regis High School. We are very excited to offer this important program to our families at no additional cost. After running two 9 week pilot groups during the second semester of the 2020-21 school year, we are ready to permanently add Drivers Education to the course catalog. The course is open to any Regis student who has not received an Oregon Driver's License.
Cost:The program is included in your child's educational offerings. There are no additional fees.
Course Length: Approximately 9 weeks (class must completed in a minimum of 30 days and a maximum of 180 days per ODOT requirements)
Class Period: Extended 0 period (7:25-8:25 AM)
A minimal number of Behind the Wheel Drives will take place in other classes / A schedule will be created in advance / Arrangements will be made with the classroom teacher
Students who complete the class will receive credit for the DMV in-car driving test. After the passage of Oregon HB 2137, driver license applicants under the age of 18 will not be required to take and pass the Safe Driving Practices test (written portion). Once you successfully complete the Regis Drivers Education Program, you will be fully qualified to get your physical license at the DMV.
Requirements
Students must have an Oregon Instruction Permit before entering the class.
Students are required to complete 30 hours of classroom instruction.
Students are required to complete six hours of driving instruction and must observe another student driver for six hours.
Parents are responsible for five hours of driving with their child. These hours must be logged. In addition, a parent (guardian) and the student must attend an introductory meeting.
For ODOT reimbursement, the student driver must not get their license or turn 18 before the end of the course. This reimbursement will help us to fund the program.
Benefits & Scheduling
Being able to take Driver Education during the traditional school day enables our students to participate in a variety of after school activities without Driver Education conflicts.
Because of the time commitment, we are limited to 6 to 8 student drivers each 9 week session. Knowing most students want to get their license at the earliest possible date, we will make every effort to place your student in the session that best aligns with their birthday.
How to Register
To register your child for Drivers Education, please email Chris Van Cauteren by August 1. Please include your child's name, year in school and their date of birth. From that information, we will construct a schedule for the upcoming school year.
For additional questions, please contact one of the following:
Juan Medina: jmedina@regisstmary.org
Chris Van Cauteren: cvancauteren@regisstmary.org
Selena Schumacher: sschumacher@regisstmary.org