Building Our Future
Regis St. Mary Foundation Capital Campaign
Schedule
Live Stream begins January 27th at 5:55 PM. The Kickoff event begins at approximately 6:00 PM.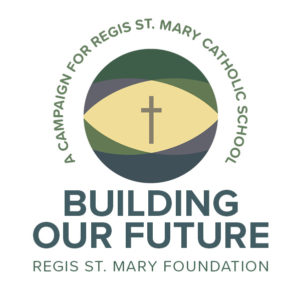 The worldwide COVID-19 pandemic is teaching our society to care for each other more so than any other single event in our lifetimes. At the same time, it has disrupted our lives and communities like no other and challenged us to respond to adversity as we pivot to what is becoming a new normal.
Clearly, the entire Regis St. Mary Catholic School community has felt the impact from complete closure of facilities last spring. We have gone without teaching in the classrooms. Sports and performing arts shut down. New teaching and learning strategies were implemented. Even the Building Our Future Capital Campaign went from the preparation phase to a temporary suspension.
After a four-month postponement, leadership has decided that it is in the best interest of the school, both short-term and long-term, to re-launch the campaign. Our needs are too great not to act now.
We believe the case for your support is strong. What we do now will position Regis St. Mary for immediate success as well as long-term sustainability. We need to:
Replace aging infrastructure that cannot be further delayed
Add support for our educational programs
Secure funding for added tuition assistance
For this effort to succeed, we need the help of many. We need support at all giving levels. We are appealing to current and past families, alumni, grandparents, businesses, foundations, and friends throughout the local Catholic community. Like benefactors of the past, we ask that you join us and make a commitment commensurate with the importance of this campaign. Our hope is that we will exceed our goals if our community responds with a sacrificial commitment over a three-year pledge period.
Quotes from our Campaign Leaders
"This campaign must be successful because it will provide for many critical needs. It is time for each of us to step up like those before us to ensure a strong learning environment for the next generation."
Troy Gaul, Campaign Co-chair
"The entire faculty and staff are so proud of the Class of 2020. Their tremendous discipline and creativity resulted in one hundred percent of them being accepted by the college of their choice. Congratulations!"
Candi Hedrick, Principal / Campaign Co-chair
"A Regis St. Mary education is a great value. Unlike most private schools, no extra fees are charged for Chromebooks or activities, including athletics. And with college credit courses offered at no cost, families can save at least $5,000 in future college tuition."
Amy Vetter, Campaign Co-chair
"The young men and women who graduate from Regis today are the business and community leaders of tomorrow. Investing in their future makes a stronger future for all of us."
Juli Bochsler, Campaign Co-chair
Capital Campaign Goals
INVESTING IN THE FUTURE TODAY
$1.5 Million
Raise $1.5 million for tuition assistance. Our goal is simple—no student shall be denied a Catholic education due to cost.
$2 Million
Raise $2 million for high priority capital projects to enhance teaching and learning, health and safety, and campus facilities
$1 Million
Raise $1 million for additional capital projects
$.5 Million
Raise $500,000 for the Foundation endowment. For every $1 million added to the endowment, the school receives an additional $40,000 annually.
Help Us Reach Our $5 Million Goal
View our Campaign Case Statement for more detailed information about the capital projects covered under this campaign.
Please watch and share our campaign video!
Consider Making a Pledge Today
We have a single source for funding our vision—your charitable support. Unlike public schools, we cannot count a special bond levy to support these vital needs.
Pledges payable over three years allow donors to consider more substantial commitments than are possible with one-time cash gifts. Donors who pledge may determine payment schedules to meet their own charitable or tax needs. Otherwise, gifts can be made in annual, semiannual, quarterly, or monthly installments. Payments can be made by cash, check, credit card (Visa, MasterCard, Discover), electronic funds transfer (EFT) or gifts of securities.
Please consider making a pledge today! Click the button to view and print our campaign pledge card. Once completed, you can scan and send via email to swoods@regisstmary.org or mail to Regis St. Mary Foundation, 550 West Regis Street, Stayton, OR 97383. 
| 3-YEAR PLEDGE | ANNUALLY | QUARTERLY | MONTHLY |
| --- | --- | --- | --- |
| $100,000 | $33,333 | $11,111 | $3,704 |
| $50,000 | $16,667 | $4,167 | $1,389 |
| $30,000 | $10,000 | $2,500 | $833 |
| $24,000 | $8,000 | $2,000 | $667 |
| $15,000 | $5,000 | $1,250 | $417 |
| $10,000 | $3,333 | $833 | $278 |
| $5,000 | $1,667 | $417 | $139 |
| $3,600 | $1,200 | $300 | $100 |
| $1,800 | $600 | $150 | $50 |
| $1,200 | $400 | $100 | $33 |